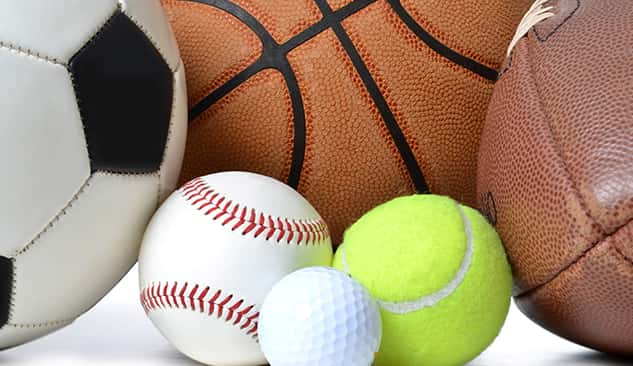 BOYS GOLF
CLASS 1 @ SEDALIA COUNTRY CLUB, PAR 72
TEAM RESULTS
1 BISHOP LeBLOND 316
2 WESTRAN 333
3 VAN-FAR 337
4 IBERIA 361
5 MID-BUCHANAN 367
6 ST. VINCENT 368
7 BLOOMFIELD 383
8 WINDSOR 391
INDIVIDUAL RESULTS (LEADER & LOCALS ONLY)
1 JESSE BURTON                        WESTRAN 70
3 MICHAEL JOHNSTON          BISHOP LEBLOND 73
6 HENRY ANDREW LIERZ     BISHOP LEBLOND 77
10 LANDON MARTICKE           STANBERRY 80
12 DYLAN COMSTOCK             ORRICK 81
12 TRISTEN DYE                        MID-BUCHANAN 81
18 ETHAN BRUMBAUGH        ROCK PORT 83
18 NOAH HUGHES                    MID-BUCHANAN 83
18 OWEN JUNGBLUTH           BISHOP LEBLOND 83
18 JAMES ROBINSON             BISHOP LEBLOND 83
25 KLAYTON KENNEDY         PLATTSBURG 84
32 DYLAN MARRS                    MOUND CITY 87
37 COLLIN BRECKENRIDGE KING CITY 88
44 HADEN BRADFORD           GALLATIN 89
54 SHELBY DICKERSON         PLATTSBURG 93
56 ELLIOTT HAYWARD          SALISBURY 94
57 GEORGE SOMMERS           BISHOP LEBLOND 95
60 BOSTON DEJONG             MID-BUCHANAN 96
60 GARETT GREEN                SALISBURY 96
64 JADEN WYANT                  PUTNAM COUNTY 99
69 HAYDEN JUMPS               GALLATIN 102
73 NICHOLAUS WYCKOFF PENNEY 103
79 TIMOTHY SPEER              MID-BUCHANAN 107
84 LANE ELLISON                 MID-BUCHANAN 113
CLASS 2 @ RIVERCUT GOLF COURSE, SPRINGFIELD, PAR 72
TEAM RESULTS
1 ST. PIUS X (KANSAS CITY) 341
2 WHITFIELD 344
3 FATHER TOLTON REGIONAL CATHOLIC 355
4 PALMYRA 360
4 KENNETT 360
6 ELDON 361
7 CALIFORNIA 372
8 WILLOW SPRINGS 391
INDIVIDUAL RESULTS (LEADER & LOCALS ONLY)
1 COLE ELLING                              ST. PIUS X 70
12 ANTHONY BONADONNA      ST. PIUS X 83
15 JACK EVANS                              LAWSON 84
15 JAYSON SCHMITZ                   LAWSON 84
23 KOLTYN SMITH                      SOUTH HARRISON 86
27 AUSTIN LASHER                    SOUTH HARRISON 87
27 COLE TAYLOR                         SOUTH HARRISON 87
34 GINO MONACHINO              ST. PIUS X 89
51 CONNOR P DURBIN              MARYVILLE 93
61 TREVIN CUNNINGHAM       MARYVILLE 96
69 ANTHONY MAGGIO              ST. PIUS X 99
80 SAMUEL ERVIE                      ST. PIUS X 104
CLASS 3 @ COLUMBIA COUNTRY CLUB, PAR 72
TEAM RESULTS
1 PEMBROKE HILL 307
2 MICDS 312
3 JOHN BURROUGHS 314
4 LUTHERAN SOUTH 319
5 HELIAS CATHOLIC 325
6 SPRINGFIELD CATHOLIC 327
7 SMITHVILLE 329
8 PRIORY 332
9 WARRENSBURG 333
INDIVIDUAL RESULTS (LEADER & LOCALS ONLY)
1 RYAN LEE                           PEMBROKE HILL 71
1 HENRY MIKULA               MICDS 71
22 ANDREW CONRAD       SMITHVILLE 79
22 GLYNN GALLAGHER   KEARNEY 79
31 TRACE WALTERS           SMITHVILLE 80
36 NICHOLAS NIELSEN    SMITHVILLE 81
54 LOGAN HESSEMYER    PLATTE COUNTY 85
71 ERIC HOLMES                 SMITHVILLE 89
71 BRADY WRIGHT             PLATTE COUNTY 89
85 BLAKE MINYARD          PLATTE COUNTY 96
88 TREY HOWELL              CAMERON 98
CLASS 4 @ SILO RIDGE COUNTRY CLUB, NOLIVAR, PAR 72
TEAM RESULTS
SCHOOL SCORE
1 LAFAYETTE (WILDWOOD) 304
2 JACKSON 307
3 MARQUETTE 309
5 CHAMINADE COLLEGE PREPARATORY 310
6 ROCK BRIDGE 312
7 GLENDALE 319
8 BLUE SPRINGS SOUTH 324
INDIVIDUAL RESULTS (LEADER & LOCALS ONLY)
1 DAWSON MEEK            GLENDALE 68
3 TANNER COLLINS       LIBERTY NORTH 72
62 DANIEL DUFFIN        LIBERTY NORTH 83
72 COOPER STILES          LIBERTY 84
81 MICHAEL GARCIA       LIBERTY 87
GIRLS SOCCER
CLASS 1 DISTRICT 8 @ BARSTOW
1st ROUND
KC LUTHERAN 8
EWING MARION KAUFFMAN 0
CLASS 2 DISTRICT 16 @ MARYVILLE
SEMIFINALS
SAVANNAH 2
BENTON 1 -2OT
MARYVILLE 3
LAFAYETTE 0
CLASS 4 DISTRICT 15 @ LIBERTY
SEMIFINALS
LIBERTY 8
NORTH KANSAS CITY 0
LIBERTY NORTH 1
PARK HILL SOUTH 0
BASEBALL
CLASS 1 DISTRICT 14 @ GREEN CITY
SEMIFINALS
GREEN CITY 4
MEADVILLE 3
NOVINGER 6
LINN COUNTY 0
CLASS 1 DISTRICT 15 @ PATTONSBURG
SEMIFINALS
PATTONSBURG 15
SOUTHWEST LIVINGSTON 0
NORTH HARRISON 8
BRAYMER 3
CLASS 1 DISTRICT 16 @ PLATTE VALLEY
SEMIFINALS
NORTHEAST NODAWAY 15
KING CITY 5
NORTH ANDREW 5
PLATTE VALLEY 3
CLASS 2 DISTRICT 12 @ WEST PLATTE
SEMIFINALS
LONE JACK 3
WEST PLATTE 2
EAST BUCHANAN 5
PLATTSBURG 0
CLASS 2 DISTRICT 15 @ SCOTLAND COUNTY
SEMIFINALS
SCOTLAND COUNTY 9
MILAN 3
PUTNAM COUNTY 10
SCHUYLER COUNTY 7
CLASS 2 DISTRICT 16 @ MID-BUCHANAN
SEMIFINALS
MAYSVILLE 5
MID-BUCHANAN 4
BISHOP LeBLOND 3
ST. JOE CHRISTIAN 0
CLASS 3 DISTRICT 16 @ LATHROP
SEMIFINALS
LAWSON 5
RICHMOND 2
CARROLLTON 1
LATHROP 0 -9 INNINGS
CLASS 4 DISTRICT 15 @ EXCELSIOR SPRINGS
1st ROUND
SMITHVILLE 20
KC NORTHEAST 0
LINCOLN PREP 5
VAN HORN 3
CLASS 4 DISTRICT 16 @ LAFAYETTE
SAVANNAH 2
LAFAYETTE 1
KIRKSVILLE 6
BENTON 0
CLASS 5 DISTRICT 15 @ LIBERTY
1st ROUND
KEARNEY 15
KC EAST 0
NORTH KANSAS CITY 9
WINNETONKA 1
CLASS 4 DISTRICT 16 @ STALEY
SEMIFINALS
STALEY 5
PLATTE COUNTY 1
PARK HILL 2
OAK PARK 1 -8 INNINGS
BOYS TENNIS
INDIVIDUAL AND DOUBLES TOURNAMENTS (SECTIONAL QUALIFIERS)
CLASS 1 DISTRICT 15
SINGLES CHAMPIONSHIP
GABRIEL SWANN, TRENTON def. TYLER MAASDAM, CHILLICOTHE (6-1, 6-3)
DOUBLES CHAMPIONSHIP
NICHOLAS SHIELDS & MITCHEL HOUGHTON, TRENTON def. JEREMY ELLIOTT & ISAAC HARRIS, TRENTON (6-1, 6-1)
CAMERON TEAM NOTES FROM COACH RICHARD BERRY-
THE BOYS TENNIS TEAM FINISHED THEIR SEASON ON MONDAY WITH THE INDIVIDUAL DISTRICT TOURNAMENT. THE BOYS WENT OUT ON A GOOD NOTE, HAVING A VERY COMPETITIVE DAY.
IN DOUBLES, SENIORS TYLER ANDERSON AND LEVI CHASTAIN WON THEIR OPENING MATCH 6-1,6-2. IN ROUND 2 THEY FACED ELIOTT AND HARRIS FROM TRENTON AND LOST A GREAT 3 SET MATCH 6-4, 6-2, 6-2. THAT TEAM WOULD GO ON AND FINISH 2ND, QUALIFYING FOR SECTIONALS.
OUR OTHER DOUBLES TEAM, SENIORS AVERY DICKERSON AND CADE KEARNS LOST IN THE FIRST ROUND DROPPING 1ST SET 0-6 BEFORE BOUNCING BACK BUT ULTIMATELY LOSING THE 2ND SET 6-7, 5-7 TIEBREAKER.
PLAYING SINGLES WERE JUNIORS DAVID BEASLEY AND NICK HELMICH. BOTH WERE SEEDED AND EARNED 1ST ROUND BYES. NICK WON HIS 1ST MATCH OF THE DAY 6-1, 6-1. HE WOULD LOSE THE SEMI FINALS MATCH TO EVENTUAL DISTRICT CHAMP GABE SWANN FROM TRENTON 0-6, 0-6.
DAVID BEASLEY WON HIS 1ST MATCH 6-4, 6-1 BEFORE FALLING TO RUNNER UP TYLER MAASDAM OF CHILLICOTHE. NICK AND DAVID FACED EACH OTHER FOR 3RD PLACE WITH NICK WINNING 8-1.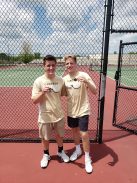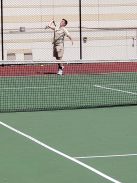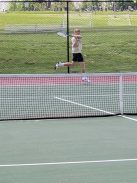 David(left) and Nick(right) with their medals. David serving and Nick playing a backhand return.
CLASS 1 DISTRICT 16
SINGLES CHAMPIONSHIP
MASON WALK, MARYVILLE def. ELLIOTT ROCHA, BISHOP LEBLOND (6-0, 6-1)
DOUBLES CHAMPIONSHIP
TAGE YOUNG & KRISTOPHER RUDEL, SAVANNAH def. ANDREW COLLIER & LANDON BUTCHER, SAVANNAH 6-2, 7-6, (8-6)