Breaking the Bottleneck
December 17, 2021 12:13PM CST
Dear Friend,
Most goods that are shipped by river in the Midwest will use the Mississippi River at some point in their journey. Ensuring that they can flow freely up and down the river is critical. Unfortunately, a navigation feature of the Mississippi River has been neglected for years, slowing the movement of river traffic.
This is Lock and Dam 25 on the Mississippi River—just south of my district near Winfield, Missouri. Completed in 1939, it has a single 600ft lock which you can see on the left side of this picture.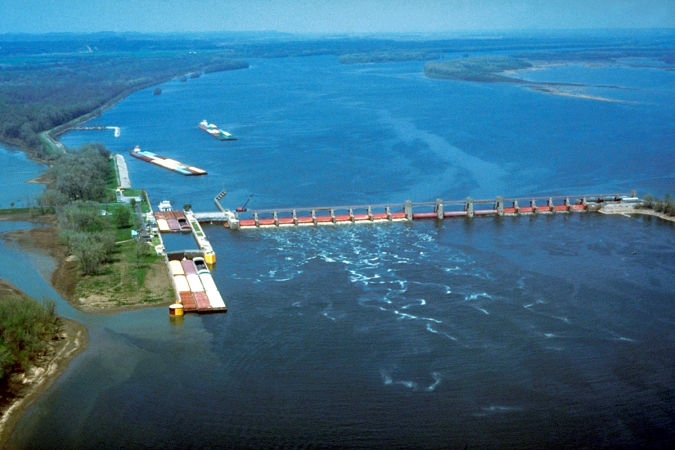 Next to the 600ft lock the tugboat is pushing barges through, you can see the "auxiliary lock." This is a nonfunctional set of gates that was built in 1939 for an additional secondary lock to be put in later. That never happened.
It's easy to see the sort of problems this creates. For one, you'll notice that the tugboat is pushing only six barges into the lock, while another nine barges wait down river. You can also see how two other tugs of fifteen barges are waiting to get through the lock and move down river. The 600ft lock was plenty big enough for river traffic in the late 1930's, but it's far too short to handle fifteen barge tows that have become common on this Upper Mississippi River.
Not only does the short 600ft lock slow down traffic here, there's also no secondary lock for traffic to flow through when the lock is undergoing maintenance. There's a lot of maintenance that needs to happen. The 71-year-old lock and dam here originally had a 50-year design life. That means river traffic gets slowed down here on a good day. On a bad day, it stops altogether.
It isn't just Lock and Dam 25 that's the problem though. There are 4 other locks and dams in North Missouri alone just like this one—at Clarksville, Saverton (near Hannibal), Quincy, and Canton, with even more to the North and South. It's not hard to imagine how big of a bottleneck this creates for barges trying to get up and down the river—and the massive drain it is on our economy. It's not hard to imagine how big of a bottleneck this creates for barges trying to get up and down the river.
This obviously isn't a new problem. That's why Congress authorized the Navigation and Ecosystem Sustainability Program (NESP) in 2007 which would, among another things, build an additional 1200ft lock where the existing auxiliary locks are at each of these locations. The problem is the program has never been funded and construction never started.
That's why I've joined a bipartisan coalition of lawmakers from across the Midwest calling for the Corps of Engineers to finally get started on this project. Now is the time to do it. We're already facing major backlogs at our coastal ports and there's no better way around that than delivering goods right to the heartland through our river system.
Let's get it done.
Sincerely,


Sam Grave
---